Water Damage Repairs to Flooring After Flooding in Covina Homes
5/7/2023 (Permalink)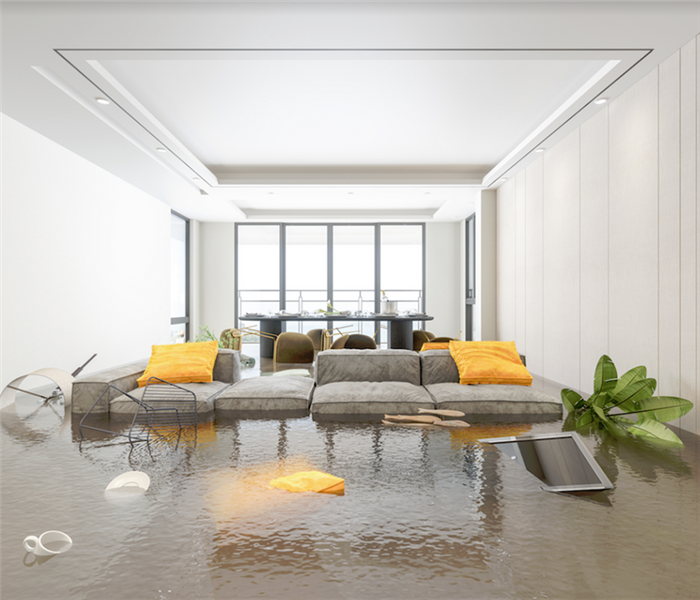 Different flooring types require special protocols for cleanup and drying. Call SERVPRO for trained technicians and effective equipment for the job.
What Flooring Requires Water Damage Repair?
There is no mistaking the damage flooding can do to your Covina home after storms. Several building materials and structural assemblies can require repair or removal to address the direct contamination threat without stopping its progress through the property. Before we can get to work on the flooring needs in this emergency, specific mitigation strategies must first occur:
Clearing surface water
Removing affected contents
Assessing the presence of trapped moisture
Inspecting for physical flooring damage
Carpeting

Carpeting is standard flooring in homes and one of the most heavily damaged materials when a flood occurs. This fibrous flooring quickly absorbs water intruding into the room, overwhelming the surface rug layer and spreading to the padding and subflooring beneath it. We remove flood-damaged carpeting and padding to assess the salvageability of subflooring. If contamination is a concern, there is no preserving exposed carpets.
Hardwood and Vinyl Plank

You might have plank flooring installed to create tight seams between the individual units, but even water-resistant materials of this type can be damaged by pooling floodwater. Not only do the potential contaminants serve as a catalyst to remove exposed flooring entirely, but any moisture penetrating the seams and connections of the individual planks can lead to further exposure of subflooring and related systems.
Non-Porous Flooring

Flooding is not likely to penetrate non-porous materials like ceramic tile and concrete. Therefore, disinfection cleaning is often sufficient instead of removing and replacing these installations. This rule can include using concrete as subflooring and exposing it to potentially contaminated floodwater.
The laws of gravity make flooring one of your home's heaviest impacted surfaces and materials after storm damage and flooding. Water making its way into the house can collect on these materials, so it is vital to understand the steps SERVPRO of Azusa / Covina takes to help. Call us at (626) 387-4111.