Assisted Living Home in Pathway of Flood and Mud in Azusa
11/7/2017 (Permalink)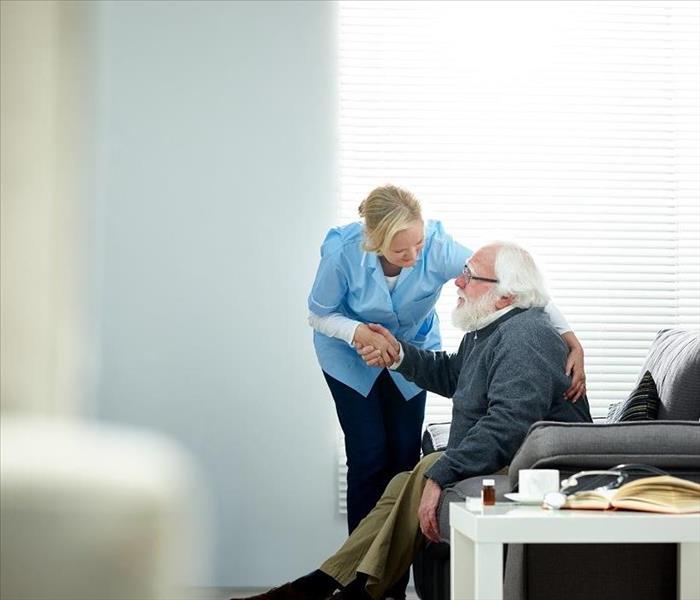 Allow SERVPRO to worry about flood damage cleanup, while you focus on the residents of your assisted living facility.
Rely on SERVPRO to Remediate Flood Damage in Your Commercial Space
The cycle of wildfires and recent heavy precipitation interrelate in many ways in Azusa. Still recovering from the effects of raging fires a little more than a year ago, the flow of water and mudslides are not moderated by forested areas as was true before the blazes. Heavy rains and snowmelt can mean damage requiring our skilled workers and industrial sized equipment to remedy.
Located to the south of the San Gabriel Mountains, properties in Azusa are at risk of flood damage if the trend of heavy rains continues. Assisted living facilities face an enhanced threat as the residents served are vulnerable, physically unable to protect themselves or get to safe areas quickly. When flooding is imminent, your focus must be on the residents under your care. Leave the cleanup to us.
Floodwaters carry a range of contaminants into your property, making professional cleanup, containment, and disposal a necessity. SERVPRO technicians are trained and experienced in contaminated water management, ensuring that at the end of the project your residence's staff and guests are at no risk of the hazardous waste-laden water that moved through the building.
Because of the erosion on the slopes, our crews must plan for a mixture of mud and water as well as an endless variety of debris picked up as the slurry moved down and into inhabited areas. We have accesses to resources equal to these challenges, including specialized equipment to collect and remove the watery mess.
Smooth, tiled floors clean more easily than carpeted areas, but we also use techniques taught in IICRC courses to clean and dry carpets in common areas and resident rooms. After the cleanup is complete, SERVPRO crews move on to treat all affected areas and materials with appropriate antimicrobial solutions to inhibit transmission of pathogens.
Drying is the final step, effectuated by high-power air movers and dehumidifiers. After being cleared for operation, we also re-engage the HVAC system to filter the air and help with dehumidification. Throughout this part of the process, SERVPRO workers measure and monitor moisture levels, using advanced scanners to locate any hidden pockets of water. Thorough drying is the best insurance to prevent mold growth and damage.
SERVPRO of Azusa / Covina is ready to assist if rainfall totals push water and debris down the mountains and onto your property. We staff our phone at (626) 387-4111 24 hours a day, 7 days a week.
For more information about the city of Azusa, click here.