Professional Water Cleanup at a Warehouse in Covina with SERVPRO
6/1/2022 (Permalink)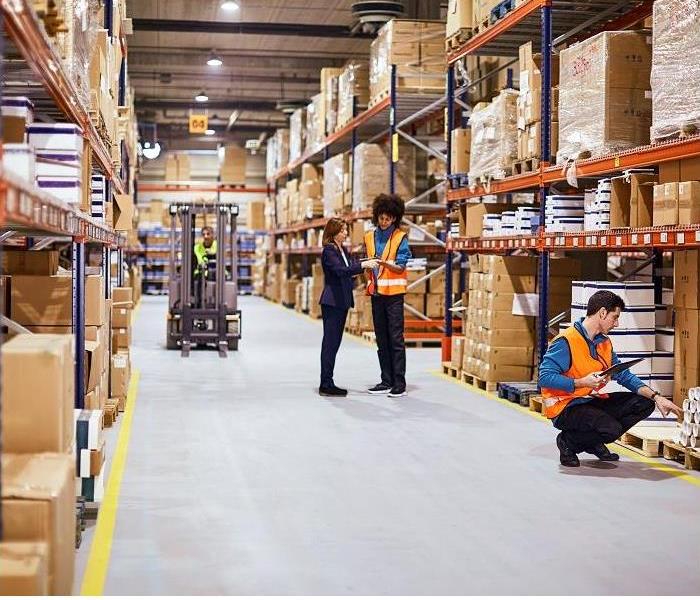 Water damaged facilities may be vulnerable to significant losses, severely impacting organizational performance.
Warehouse Water Damage Cleanup in Covina
Water damage to warehouse environments can be devastating or disruptive by affecting the structure or the stored merchandise. Shuttering operations until the building has been restored is not suitable for business or your employees. Whether a frozen pipe burst or a broken fire sprinkler causes water damage in your Covina warehouse, ensuring the facility is safely and quickly restored is crucial.
Water cleanup at a warehouse in Covina should be carried out as soon as the issue is discovered. Otherwise, the facility may be vulnerable to significant losses, severely impacting organizational performance. SERVPRO crews respond fast, locating the water source and shutting it off if there is an active leak, thus preventing more water from getting into your facility.
Why Professional Restoration is Recommended
Due to the vastness of the warehouse
Need for special attention to stored things
Need for pack-outs or containment
Minimal interruption to your business
Warehouses are large spaces tightly packed with stored goods, meaning water damage recovery is often complex and requires enough workforce. Also, all items should be handled with care, especially those marked fragile. There may be a need for pack-outs, containment, and movement of large things; hence we come equipped sufficiently to tackle these needs.
Steps that control warehouse water damage
Actions Towards Proper Restoration
Immediate water extraction
Structural drying and deodorizing of the facility
Water-damaged material tear-outs and replacements
SERVPRO technicians help remove any standing water. Depending on the amount of water, mops, wet/dry vacuum, or submersible pumps can be used. A pump can generally remove up to 90% of the water. However, surfaces are still wet to the touch. These surfaces need to be thoroughly dried.
Moisture in the air affects materials, equipment, and inventory in the warehouse, leading to mold formation or spoilage of merchandise. By setting up dehumidifiers, we can dry out the remaining wet areas and remove moisture from the air.
SERVPRO of Azusa / Covina has the technology, workforce, and experience to perform water damage cleanup "Like it never even happened." Call us at (626) 387-4111.