Printing Contractor Suffers Water Damage in Irwindale
5/3/2022 (Permalink)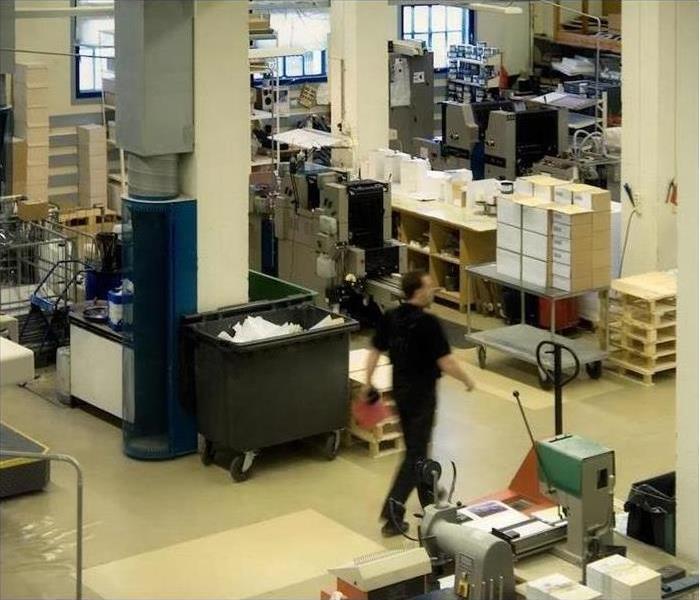 Your print shop needs quick action to recover from water damage. Contact SERVPRO for a plan of action to get you back to printing.
SERVPRO Technicians Focus on the Precise Tasks Ahead of Them to Get Your Business Quickly Back to Operational Again
All businesses have connections within their communities. Some commercial enterprises perform tasks that affect other companies and residents more profoundly when a disaster affects their physical plant. SERVPRO helps companies large and small when water flows uncontrolled, committed to the well-being of every member, residential or commercial, of our neighborhoods.
Even in this age of virtual connection, people and businesses truly rely on local papers and publications to share information. When a burst pipe stops the presses, professional commercial water removal is essential to clear your Irwindale printing shop fast. News waits for no one, and our efforts do all that is necessary to get the printer back online.
Modern printing operations rely upon electronics as well as vast stores of paper and ink. When the SERVPRO team arrives, safety is first. The various pieces of electrical equipment must not threaten the lives of our workers or the employees of your business. We make certain the power is off and then use our truck-mounted submersible pumps and water extractors to remove the water. The inks and products used to keep the presses in working order may mix with the floodwaters. Knowing this, we consult with local authorities to dispose of the water properly.
The computerized work areas need assessment by electronic water damage specialists. We work with you and your insurer to communicate with these professionals as we move from water removal to drying out the area. Industrial strength air movers and dehumidifiers assist in the reduction of the remaining moisture. Only after we receive the okay do we re-engage the electricity and wait while you put your equipment through its paces.
A real challenge during this job is dealing with the massive quantities of newsprint within the building. Any paper out of the reach of the flooding depends upon our ability to reduce ambient humidity in the work area to remain usable. The soaked paper is probably unsalvageable but needs removal and appropriate disposal to avoid secondary water damage. Mold growth is a distinct possibility with wet rolls of paper.
Be sure that all the news fit to print is soon in the hands of our local community after SERVPRO of Azusa / Covina removes the water flooding your premises. Call (626) 387-4111 day or night for a prompt and professional