Commercial Water Damage Restoration in Azusa
3/5/2022 (Permalink)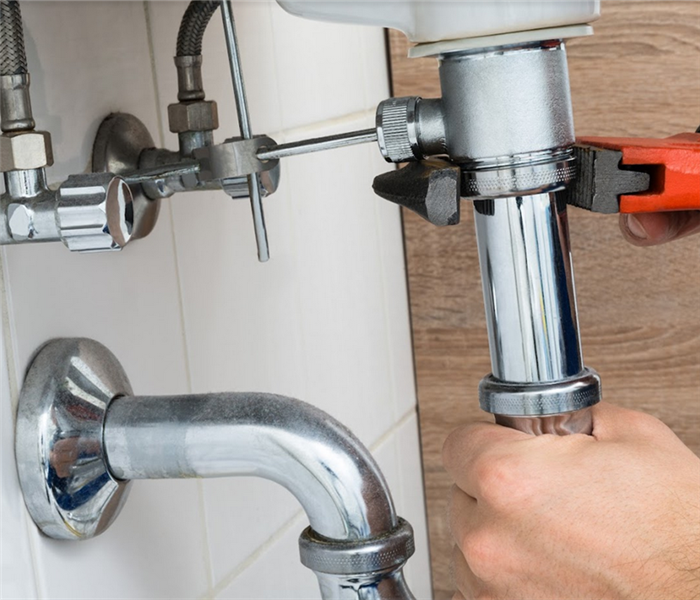 Bathroom plumbing failures at your business location need to be attended to right away. Call our team to assess and remediate the water damage.
SERVPRO Thoroughly Removes Water and Dries Out Large Commercial Spaces
Most Azusa businesses face a plumbing failure at one time or another. Most are minor problems, like a leaky pipe under a customer bathroom sink. In larger facilities, like a big box store or a warehouse, a plumbing failure can spill an incredible amount of water across a showroom floor. Overnight, the entire facility can be under an inch or more of water.
In a business like this, the concentration on alleviating Azusa commercial water damage is water removal and floor drying. Since the floor is primarily concrete, SERVPRO technicians know that this reduces the types of water damage, but it does not eliminate them all. What we want to prevent is cracking and other damage to the surface and below.
We start by opening every entrance or exit possible. SERVPRO technicians then engage commercial grade pumps to bring down the water level. With several of these pumps working together, we can clear even a large area in a single day.
Once they have it down just covering the surface of the floor, we switch to using extraction wands and squeegees. The extraction wands are a more powerful version of a water-vac found in most garages. For areas in the store which have just a trace of water left, we use long-handled squeegees to push the water out the nearest exit. It takes us another day or two using these devices and hand tools to complete drying the floor.
A second concern is reducing the humidity inside the building. At each of the major entrances and exits, our IICRC-certified technicians place large exhaust fans to draw the damp air inside the building outside. If there are corners inside the building that we cannot get to, under storage racks for example; we set up air movers to force warm air underneath to dry them.
Concrete is resistant to damage, but water can find its way into the smallest crack or fissure. If you do not have a professional service quickly remove it, the results can be thousands of dollars in repair costs. If your business is underwater, then you need our help. Call SERVPRO at Azusa / Covina at (626) 387-4111 today.