Mitigating Mold Damage in a Covina Chiropractic Office
1/31/2017 (Permalink)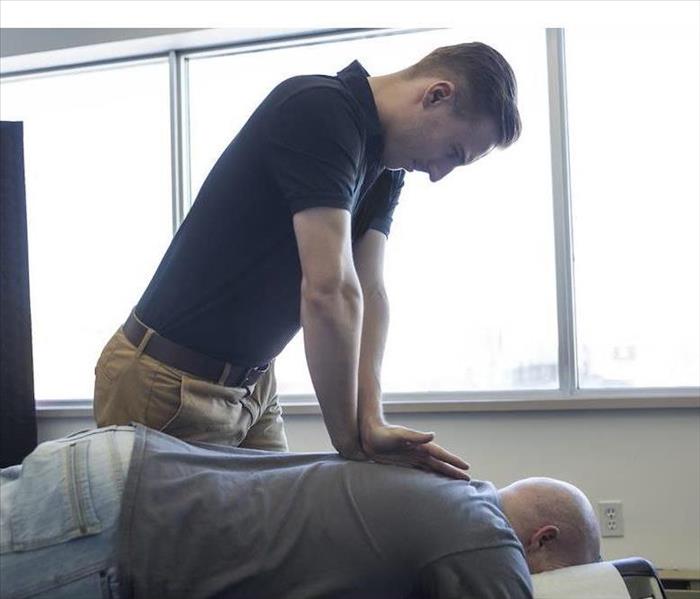 Get a handle of the moisture level in your Chiropractic Office with SERVPRO. Call today for an evaluation.
SERVPRO Has Experience with Humidity and Mold Issues in Office Spaces
If you run a humidifier or diffuse fragrance in your chiropractic office, the added moisture in the air can feed spores, resulting in colonies of fungi on walls or ceilings. SERVPRO can remediate the current mold damage and educate you on how to monitor humidity to avoid growth in the future.

You may unwittingly be contributing to commercial mold damage in your Covina chiropractic treatment and waiting rooms. The steam from a warm or cool humidifier or fragrance diffuser can condense on a wall or other solid surface, creating the perfect conditions for many varieties of mold to grow. Because mold spores are always present in the air, a traditional water disaster does not need to occur for mold colonies to flourish. A microbial breakout can be a very concerning and confusing time. If the mold is cleaned away, but the conditions that encouraged its proliferation do not change, it will come back repeatedly. We can help you adjust the conditions in your chiropractic practice to create a soothing and spa like ambiance but also reduce the possibility of more mold damage to almost nothing. A proper moisture balance is the key to preventing more mold from invading, once the initial growth is contained and removed.

Mold damage remediation is a job for professionals, particularly when your business is serving the healthcare needs of paying clients. SERVPRO follows the EPA protocol developed for schools and commercial buildings to provide mold abatement, requiring only trained experts to take the steps to deal with the mold. Our technicians protect you, your patients, and themselves during the process. Mold damage is contained, removed, and disposed of following local hazardous waste rules. A thorough cleaning, top to bottom to contain spores, will then be performed. HEPA filtered vacuums and disinfection solutions may be used.

We then turn our attention to the water source feeding the fungi. Ambient humidity in your office will be measured with precision instruments. Bringing it down to 60 percent or lower will be a goal to prevent more mold growth. Angling diffusers and humidifiers away from surfaces that will condense the mist will also help eliminate pockets of moisture attractive to mold growth.

Mold damage in your chiropractic office can be managed successfully by SERVPRO of Azusa / Covina. Contact us at (626) 387-4111 for a microbial growth consultation.