What Is Restoration and What Can It Do for Water Damage in Covina Businesses?
7/19/2021 (Permalink)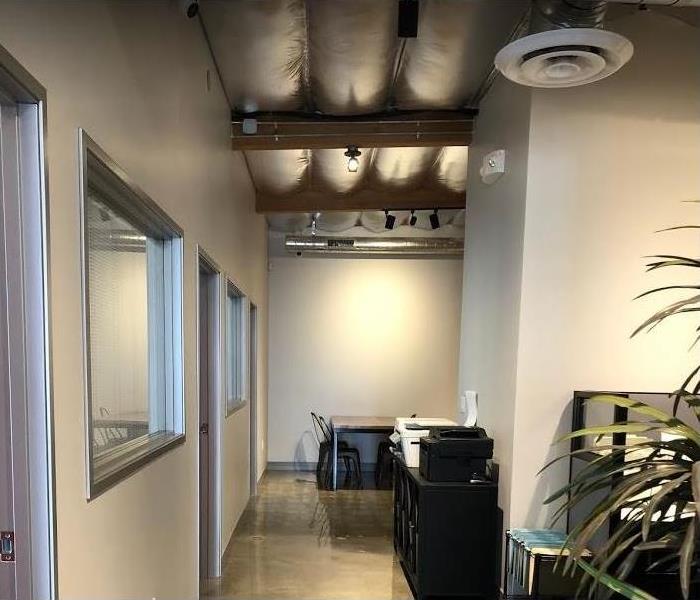 The first step in water damage restoration is removing the water. SERVPRO is available 24/7 for your water damage restoration needs.
Don't Let Water Damage Impact Your Commercial Enterprise
If you're dealing with a significant commercial water damage incident, you may be feeling a little pessimistic about how much of your business can be saved. Breakdowns and failures like a burst pipe or a faulty restroom are quite common, but they can cause all kinds of damage. Fortunately, there is a way to minimize the severity of the situation and rescue as much of the affected area as possible.
Restoring commercial water damage in Covina businesses is no easy feat. Still, it can be achieved with the help of SERVPRO. Our expert team is highly experienced in dealing with flooding of all shapes and sizes. They can be onsite fast to start water extraction quickly and reverse the destruction caused by standing water.
This quick guide to the restoration process will help you learn all about what the technicians at SERVPRO can do for you.
What Is Water Damage Restoration?
The term 'restoration' is a simple one to define, but it involves a wide variety of different methods and techniques. Essentially, it is the job of putting a business back together after a flood or other water-related incident. Some classic examples include broken pipes, fire sprinkler systems gone awry, cracked gutters or failed flat roof pooling containment, overloaded appliances, and faulty faucets and boilers.
A team of restoration professionals is called out to the damaged site – in this case, your business – and they use a selection of industrial-strength tools to remove the water. The array of water pumps can vary from a handheld portable wet vac to sump pumps to large truck-mounted equipment. After water removal, our SERVPRO technicians can start taking steps to salvage as many items as possible.
Why Is a Speedy Restoration Important?
Getting the restoration process started quickly is important for some reasons. The longer that your employees cannot work from the affected area, the more money you'll lose. It can also be a health hazard to leave the water to sit and stagnate and degrade into contaminated Black Water.
Consider that SERVPRO works with over 315 management companies, municipal and federal entities, and many insurance companies to expedite time and save you money.
There is also a great risk to the structural integrity of the building, as moisture creates mold that slowly destroys organic materials like wood, drywall, or even fabrics in a boutique. We understand that nobody wants to have to call a water damage restoration team. If you do, it means that something has gone wrong.
Most commercial water damage is not permanent. With the help of SERVPRO of Azusa / Covina, you can get restoration started as soon as the problem becomes apparent. Our experts are highly trained and can assess the building for dangers so that you don't have to put yourself at risk. Call us 24/7 at (626) 387-4111.