How SERVPRO Effectively Restores Water Damage and Prevents Mold Growth
2/24/2020 (Permalink)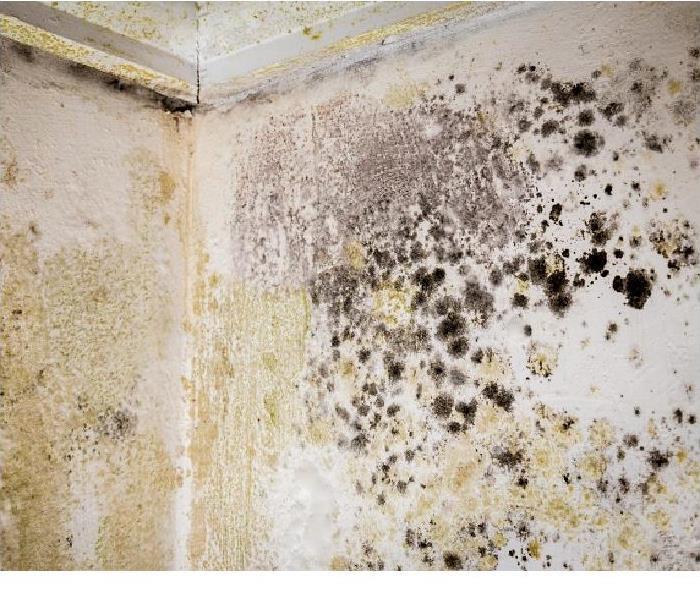 Water damage not properly remediated can lead to mold growth. Call SERVPRO for fast, effective remediation.
Commercial Water Removal Covina – Avoiding the Growth of Mold
Most commercial tenants and owners arrange for cleaning staff to clean their premises every day, usually in the evening. After dusting, vacuuming, and wiping down everything, the cleaning staff locks up for the night. Many owners often consider using the same firm to help with water removal after a leak in the plumbing or an overflowing toilet.
SERVPRO provides commercial water removal services in Covina and the surrounding areas. We are available 24/7 and can take over from the regular cleaning staff to remove water from floors and walls if needed. Not only do we vacuum up all of the moisture, but we also check for moisture inside cavities, under the carpet, in the walls, and under heavy furniture and equipment. Cleaning staffs often miss these areas and are excellent locations for mold to grow.
Moisture Reduction and Mold Growth
Many customers mop up the excess water, open the doors and windows to let the area dry out and resume business operations after a water leak. Mold spores are everywhere, and the spores love warm, dark locations with high humidity. Typically, people miss moisture inside walls, under carpets, and even under heavy storage cabinets after a leak. Mold infestations can begin in these areas, eventually affecting the health of your employees, creating a musty smell, and even weakening the structure.
SERVPRO uses moisture sensors and meters to detect moisture in materials and hard to reach spaces. We also measure the relative humidity in your space. Once detected, we can utilize several devices to remove the moisture and dry the area without causing significant damage to floors and walls.
Depending on the situation, we arrange for an access point to the area. We can blow dry air into the cavity or under floors. Dehumidifiers can collect the increased moisture in the air and return the humidity levels to normal. Our objective is to remove moisture sources and the growth of mold infestations after a water leak.
Call SERVPRO of Azusa / Covina at (626) 387-4111 for 24/7 service. We proudly serve Irwindale and surrounding areas. We're Faster To Any Size Disaster.
More about Covina.