Water Damage in Corvina is Undiscriminating. Be Selective and Choose SERVPRO to Cleanup.
12/26/2019 (Permalink)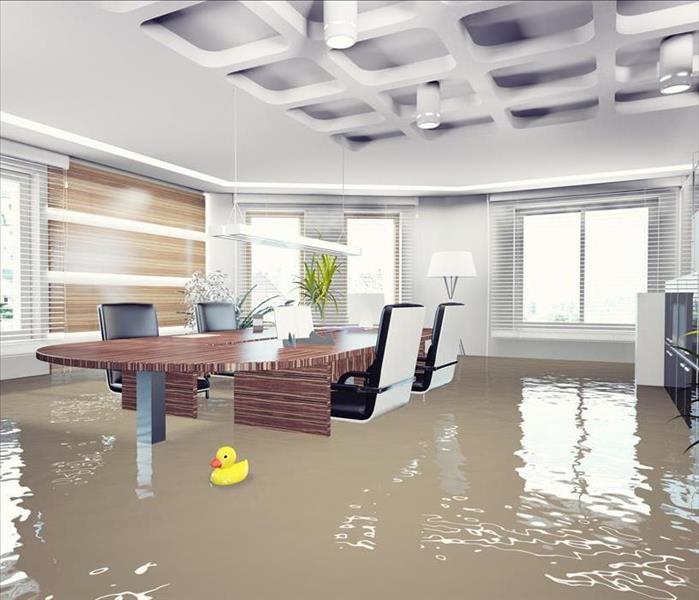 There are some emergencies where your cleaning company may not be able to manage all aspects of the water damage.
Benefits of Hiring Professional Water Removal Specialists for Commercial Buildings in Covina
Like many owners of a multi-business commercial space in Covina, you made the decision long ago to contract with a building cleaning service. Although the company you hired does an excellent cleaning job, there are some emergencies where they may not be able to manage all aspects of a crisis. Particularly when a water loss is involved, the responders must have all the experience, training, tools, and equipment necessary to locate, remove, contain, and dispose of the water.
Common Spaces Share Water Damage
Your many retail and foodservice tenants reap the benefits of communal business practices, but when something goes wrong, the need for shared water removal services in Covina poses some challenges. Water that spills in one store or a supply line that bursts between the walls separating a couple of stores can spread far and wide. Establishing the perimeter of the water movement is crucial because if any moisture goes unaddressed, secondary damage is likely.
Locating the Water Spread Requires Training and Tools
When SERVPRO managers and technicians complete the Institute of Inspection, Cleaning and Restoration Certification (IICRC) coursework, they receive a solid foundation in the theory and operation of moisture detection and monitoring devices. Because water is undiscriminating as it moves through the many spaces of your commercial building, we must find and follow its path. Our employees use the following tools to locate the wet areas of the structure. Further, they help define how much they vary from normal moisture levels in unaffected areas of your building.
Moisture Sensors
Uses sharp probes to detect moisture in soft materials. These are an excellent aid to detect the presence of moisture in excess of 17 to 19 percent but do not measure the amount of moisture.
Moisture Meters
These implements determine the moisture content of various materials. Penetrating moisture meters use probes to test within wall cavities and underneath wood flooring. Penetrating meters also test individual layers. Nonpenetrating moisture meters use sensors to produce readings when the meter is placed on the surface of materials. The sensors test the conductivity of the material, so we can get false readings when measuring steel studs, foil back insulation, nails, and other metals.
Thermo-Hygrometers
This tool measures temperature and relative humidity. Advanced models also record dew point.
Removal Proceeds After We Determine the Extent of Water Migration
SERVPRO positions pumps and extractors once we know the outline of the water migrations. The measurements used to locate the water form the basis of our drying goals. Our team continues to use the specialized tools to monitor drying after we bring in air movers, heaters, and dehumidifiers to complete the commercial water removal.
The focus of SERVPRO of Azusa / Covina is sharpened to water removal when your commercial property suffers from a water loss. Contact us at (626) 387-4111 to arrange an inspection and plan to get all your tenants back in business fast.
Click here for more about Covina.