Eliminate Water Damage From Covina Property with SERVPRO's Help
8/20/2019 (Permalink)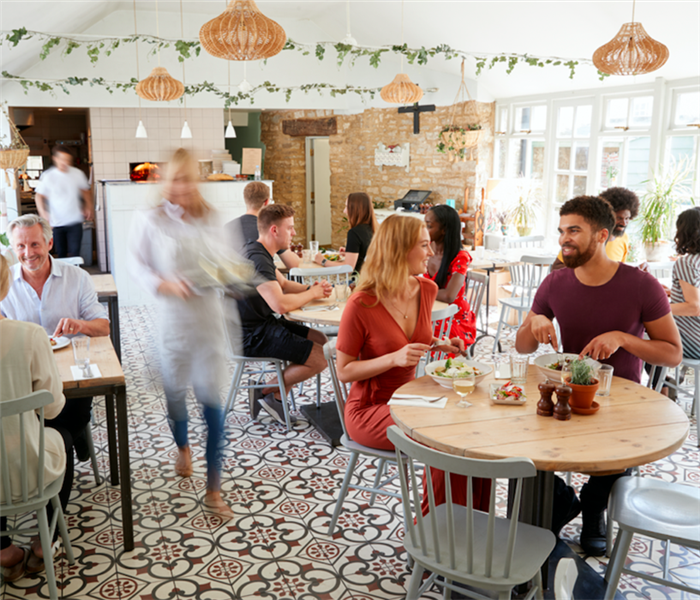 Water damage to your Covina restaurant can be difficult to deal with alone. Call the professionals at SERVPRO today for remediation assistance.
Even Small Water Damages to Restaurants in Covina May Require Professional Help
One of the most commonly overlooked types of damage to restaurants in our area is water damage. It can be easy just to mop up the water or patch a leak and call the problem fixed, and in many situations, that may be all that you need to handle the issue. However, when damages start to add up and resist stopgap efforts, that may be a sign to call in a professional mitigation company. SERVPRO stays ready 24/7 to respond to any type of damage since We're Faster To Any Size Disaster.
How Problems Can Start
Some of the most common water damages to restaurants in Covina involve long-term leaks that grow to monstrous proportions. Appliances, water lines, fire sprinklers, and more can all create small flows of water that start to pool up in hard-to-reach areas. These pools of water can cause a wide variety of problems, including damage to the foundation of your building and mold growth around the entire restaurant. Less commonly, we also get calls when appliances or water lines encounter a significant malfunction and flood the area. Regardless of the source of the water, you should call SERVPRO any time you think that the situation may be too much for a few mops and towels to handle.
Calling for Help Sooner Rather than Later
Small-scale water damages can be tricky to deal with since they may not seem severe enough to warrant a call to a company like SERVPRO. However, if you neglect to handle the problem with the appropriate level of care, far more severe problems can start to develop. Mold growth can be avoided through fast drying aided by our industrial-strength equipment but may be inevitable in some situations where we might not get called in. While we carry a wide variety of certifications to handle problems like mold damage, we strongly prefer that you call us as soon as possible after finding signs of damage. Most of our water removal projects take up only a few hours and may not impede even a single day of your normal business operations.
SERVPRO of Azusa / Covina stays ready 24/7 to respond to disasters large and small at business locations in the area. Call us at (626) 387-4111 to learn how we can help.
Click here to see more about Covina.