We Are Equipped With The Necessary Tools To Handle Your Covina Water Damage
6/18/2019 (Permalink)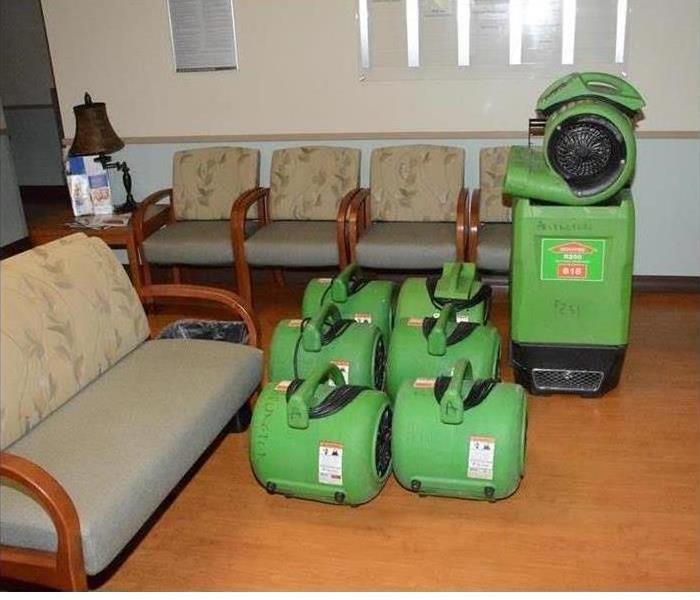 We are available 24/7 to restore your preschool after a water damage emergency. We have the equipment, expertise and tools to handle any disaster.
Help from the Experts Prevents Commercial Water Damage from Closing Your Covina Preschool
Businesses of all kinds in and around Covina trust SERVPRO because our trained employees earn different certificates from the Institute of Inspection, Cleaning and Restoration Certification (IICRC). We know how important your business is to you, your students, and their families. We can help you keep classes in session, with regular activities intact by mitigating things properly.
When your preschool gets more than a little wet, commercial water damage in Covina can start to cause you problems with your building. Children sometimes flush things down the toilet or plug the drain in bathroom sinks, leading to overflows. Other causes of water damage include windows that leave gaps when closed, leaks in the kitchen plumbing, and deficits in the building's structure.
Our first goal when we show up to a site with water damage involves locating the place where the water comes from, and then getting it stopped. We cannot do anything else until the water no longer comes into your building. One-time incidents that you know to have caused the disaster can save us this step.
We then use our infrared cameras to view in real time where the water spread. Water behaves differently in different situations. Different sources also leave behind different categories of water, clean, gray, or black, and the amounts vary considerably, as well. While we can calculate an estimate of how much water affected your building, the amount rarely matters as much as the percentage of moisture content inside of the structure's materials. We use the numbers from our moisture meters to help us gauge our progress in drying and mitigating the interior environment of water and the damage it causes.
We also clean the carpets wherever needed to make sure that they end up clean and dry before your students return. We wipe down the surfaces that became wet and apply disinfectants and sanitizing agents in a spray to ensure even and thorough application. When larger areas need this treatment, we often use a fogger for its penetrating action.
Because we work as efficiently as possible from the very beginning, we can finish the job soon, keeping interruptions to a minimum. Our high level of efficiency gets a great head start because we are Always Faster To Any Size Disaster, including yours.
Call SERVPRO of Azusa / Covina at (626) 387-4111 when you need help with water damage that threatens your preschool. We serve all sizes and types of businesses.
See more about Covina.