We Will Restore The Odor In Your Covina Restaurant After Water Damage Has Hit
3/13/2019 (Permalink)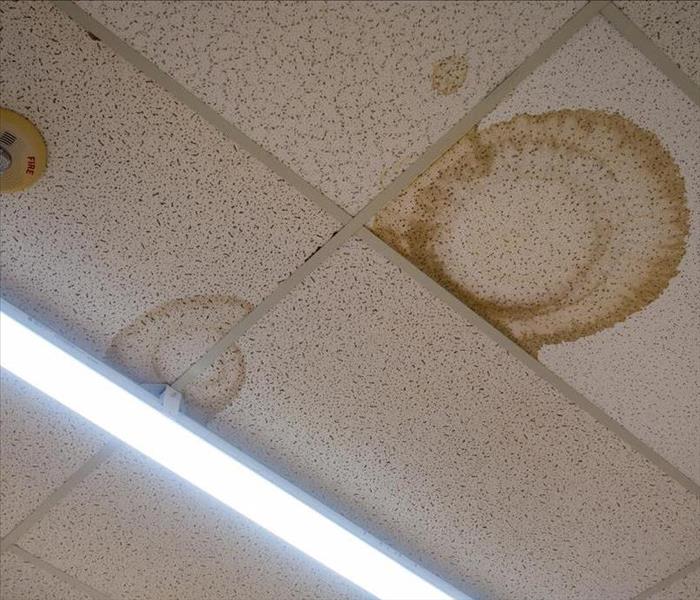 Stains in your business caused by water damage need to be restored by our technicians right away. We are available 24/7.
Turning Around Commercial Water Damage in a Covina Restaurant
Signs of water damage in your restaurant can hurt your business. When customers see the water stains and smell the odor left behind, they may choose not to frequent your establishment. Also, another problem besides unsightly water spots and unpleasant odors can permeate your space, and that is mold. Where there are moist conditions and something organic to eat such as wood or drywall, mold can spread quickly and set up an unhealthy environment for both workers and customers.
When you discover commercial water damage in your Covina restaurant, it can feel overwhelming. First, fix the source of the water intrusion, then contact us to remediate the visible damage and any secondary damage that has occurred. SERVPRO technicians are IICRC certified and have the knowledge and resources to remove the odor and ensure your restaurant is a healthy place to work and serve food with no mold growth in the affected areas. Best of all, we can schedule the remediation efforts at times that are convenient for you, so your business is disrupted as little as possible.
SERVPRO technicians first use moisture detectors and thermal imagery if necessary to determine that both surfaces and interior areas are dry and retain little to no moisture to inhibit mold growth. If necessary, rapid drying techniques are employed to eliminate moisture that has collected behind walls or under flooring. Damaged drywall or ceiling tiles that cannot be restored are removed as they can harbor both odors and mold. Powerful antifungal and antibacterial cleaners are used to disinfect all non-porous surfaces.
Our Odor Control Technicians (OCT) are certified in the removal of all types of odors. Often residual odors are due to incomplete drying. Once thoroughly dry, if the odor remains, the technicians may choose to utilize a powerful odor neutralizing method such as hydroxyl generators. These machines utilize the same broad UV spectrum as the sun to safely neutralize odors in indoor areas.
Keep your restaurant free from commercial water damage issues and contact SERVPRO of Azusa / Covina as soon as you notice a problem. Our emergency services are available 24/7, and the restoration can begin as soon as you call us at (626) 387-4111.
Register now for Spring sports click here for more information.